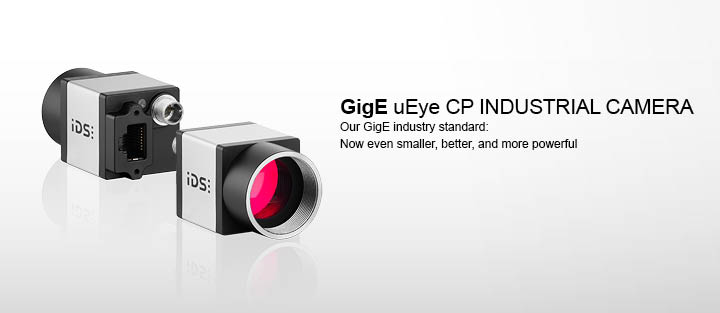 GigE uEye CP industrial camera: The tiny power pack for industrial applications with PoE functionality
Small and powerful: You can rely on the second completely new generation of our GigE uEye CP to reliably assist you with classic machine vision applications. 100% quality tested and calibrated: For consistent performance and reliability. Measuring just 29 x 29 x 29 mm, the new CMOS cameras are much more compact than their predecessors and even more powerful: Full GigE speed, single-cable operation up to 100 meters via Power-over-Ethernet (PoE), screw-on connectors, and much more. Top CMOS sensors from Sony, ON Semiconductor and e2v are integrated in the cameras.
Ideal for multi-camera operation: An integrated image memory decouples image acquisition from image transfer. Internal camera functions such as pixel preprocessing, LUT or gamma minimize the processing power required.
Thanks to the unique IDS Software Suite, you also experience real USB plug & play even for Gigabit Ethernet cameras: The cameras are automatically detected in the system and are ready for use immediately. Available soon and only at IDS: All CMOS cameras are available with support for the GigE Vision standard.
Compact: Measures just 29 x 29 x 29 mm and is therefore ideal for applications with space restrictions
Ultra-light, robust housing: Ideal for applications on robot grippers
Full GigE speed
Single-cable operation up to 100 meters via Power-over-Ethernet (PoE)
Host computer is relieved: Thanks to pixel pre-processing such as gamma and definable LUT
120 MB of internal image memory: Ideal for multi-camera operation
GPIO, trigger and flash: Many additional features for a wide range of industrial applications
Next generation CMOS sensors: Reasonably-priced CCD replacement with excellent image quality
IDS filter concept: For protection against dust and dirt and for spectral filtering of the incident light
100% quality tested and calibrated: For consistent performance and reliability
Long-term availability safeguards your investment
Automation: Quality assurance and inspection
Printing industry: Completeness checks, quality assurance
Logistics
Microscopy: Analysis equipment
Medical technology: Ophthalmology, scanners, skin analysis equipment
Pharmaceutical industry: Label, OCR, and barcode recognition, color and completeness checks
Robotics
Packaging industry: Bottle inspection, fill quantity analysis, barcode and OCR recognition
Other applications: General motion analysis (e.g. sports applications)