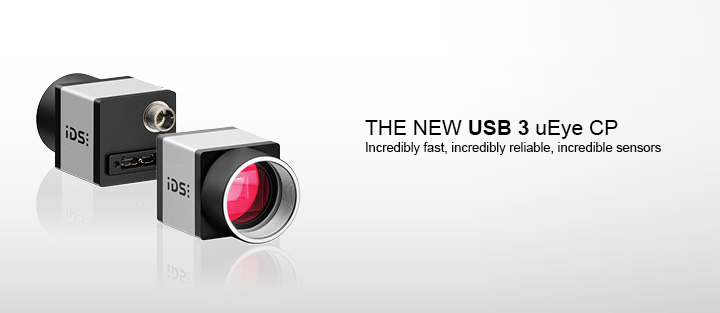 USB 3 uEye CP – Incredibly fast, incredibly reliable, incredible sensors
The new developed generation of the USB 3 uEye CP makes a designer's heart beat faster: innovative housing design, high quality as well as unbeatable performance. Highlights are the integrated image buffer with 128 MB, which is perfectly suited for multi-camera applications, and the standby mode, which reduces the power consumption in sleep mode to a minimum. Focussing on new and future generations of high-perfomance CMOS sensors, the USB 3 uEye CP is a future-proof investement for your applications.
Note:
Due to the high performance of modern sensors some USB 3 uEye CP models are not supported in the USB 2.0 mode. The USB 2.0 interface doesn't provide enough power. More information can be found in the uEye camera manual.
Standby mode for minimum power consumption in sleep mode
Active cables and fiber optic cables up to 100 meters available
Easy integration into existing systems and communication with external peripherals
Providing the latest CMOS sensors by Sony, CMOSIS, e2v and ON Semiconductor
USB 3.0 interface: High data rate of 420 MByte/s, easy integration and plug & play functionality, ideal for multi-camera and 3D systems
Compact: Measures just 29 x 29 x 29 mm, ideal for applications with space restrictions
Efficient: Low power consumption
Weighs less than 45 g: Very versatile, especially well-suited to embedded systems
Cable length: Passive cable up to 8 meters, active cable up to 20 meters available as quality-tested accessories
Optically decoupled trigger and flash, as well as two general purpose I/Os: Many additional features for a wide range of industrial applications
Serial TTL interface: Ideal for controlling external devices
Filter glass in front of the image sensor: For protection against dust and dirt and for spectral filtering of the incident light
Pixel pipeline: Color models with hardware RGB calculation with up to 36 bits
100 % quality tested and calibrated: For consistent performance and reliability
Although the USB 3 uEye CP cameras have already proven their worth in the following applications in particular, they are also ideally suited to other fields of application.
Automation: Quality assurance and inspection
Automotive industry: Bodywork inspection
Astronomy (models with NIR sensor)
Logistics
Pharmaceutical industry: Label, OCR, and barcode recognition, color and completeness checks
Robotics: Guidance/orientation assistance, object and pattern recognition, object type, position, and direction recognition
Printing industry: Completeness checks, endless web inspection systems, quality assurance
Packaging industry: Bottle inspection, fill quantity analysis, barcode and OCR recognition
Embedded systems
Multi-camera systems and 3D applications
Other applications: Motion analysis (e.g. sports applications)