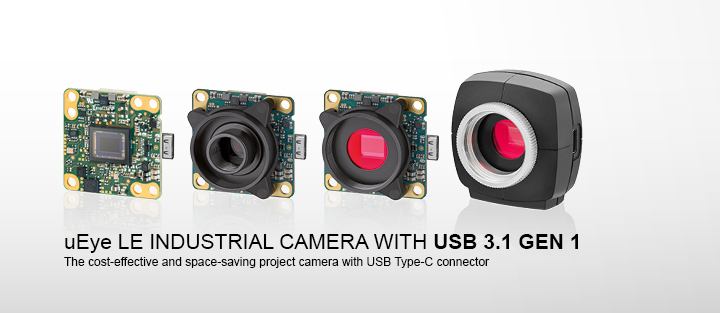 uEye LE USB 3.1 Gen 1:
The cost-effective and versatile project camera with USB Type-C connector and USB Power Delivery
Our uEye LE USB 3.1 Gen 1 is the first USB 3.1 Gen 1 industrial camera with a pioneering, reversible USB Type-C connector. Thanks to the Plug & Play principle and the ease of use that comes with the IDS Software Suite, you'll be up and running with USB 3.1 Gen 1 cameras in no time. The USB 3.1 Gen 1 cameras are available in different versions: as a single board camera without a lens holder, as a single board camera with an S-mount or CS-/C-mount, or as a housing version with a C-/CS-mount. The board-level versions, available either with horizontal or vertical USB connector, also have a 10-pin I/O SMD connector for GPIO, trigger and flash. USB Power Delivery enables to offer a variable power supply for periperal devices at the I/O port. The camera itself always uses a constant voltage. The "additional" power, which is provided by the PD network, is passed to peripheral devices connected to the camera in different power profiles, e.g. to supply a LED light.
These features together with the wide range of CMOS sensors make the cost-effective uEye LE USB 3.1 Gen 1 industrial cameras the first choice for your project in small device construction or for applications in microscopy, medical technology, traffic monitoring and in classic machine vision.
USB 3.1 Gen 1 cameras: high transfer rates up to 5 Gbps
Quick and easy integration: Plug & Play thanks to IDS Software Suite, and single-cable solution for data transfer and power supply
Small and space-saving: 47 x 46 x 26.3 mm (housing version), 36 x 36 mm (single board version)
Connectors: USB Type-C (housing version), single board version also has a 10-pin I/O SMD connector (2 GPIO, trigger, flash)
Variants: without lens holder, with S-mount or C-/CS-mount (single board version), CS-/C-mount (housing)
Board-level versions are available with vertical or horizontal orientation of the USB Type-C connector
Supports USB Power Delivery. Enables power supply for external devices via the camera
Screw mounting: Housing version: 2x M3 screws on the underside; single board version: 4x mounting holes Ø 3.2 mm
Top CMOS sensors from Sony and ON Semiconductor for every application
Cost-effective project camera for OEM customers
Machine Vision
Quality assurance
Metrology
Small device construction
Embedded systems
Microscopy
Medical engineering
Traffic monitoring (ITS)