uEye+ XLS | XCP | XLE
Perfect when essential functions matter
Budget-friendly industrial cameras: ideal balance between price and performance
Are you looking for cost-effective cameras with basic functions? Then our low-price portfolio is the right choice for you. It is precisely for these requirements that we have developed the XLS, XCP and XLE industrial camera families of the uEye+ product line. No over-engineering, but designed for what is essential: small, easy to integrate, cost-optimised and equipped with the fundamental functions for high-quality image evaluation.
Choose the right model for your application from a wide range of housing variants and sensors. Other advantages include easy handling and low energy consumption. This makes the compact cameras ideal for large projects and multi-camera systems in production, logistics and robotics, for example, as well as for embedded vision applications. The IDS peak SDK helps you to quickly deploy and operate the models. But that is not all. IDS supplies you with any accessories you need to use the cameras, from lenses to cables. And all that at a favourable system price.
Great performance, small price
Good news for all IDS customers: Due to optimised and stabilising supply chains, we can offer you our uEye+ XCP and XLE industrial cameras with USB3 interface at significantly improved conditions starting at 149 Euros.
An example: uEye+ XCP, our smallest C-mount camera with housing and the outstanding 5 megapixel global shutter sensor IMX568 from Sony, is now available for only 389 Euros list price; with the 5 MP rolling shutter sensor AR0521 from onsemi even from 179 Euros!*
*Prices in webstore visible after registration and activation for the webstore
Software support for uEye+
uEye+ XLS: Tiny board-level cameras for embedded applications
The uEye+ XLS camera models are only 29 x 29 x 7 mm in size. This makes them the smallest board-level cameras in the IDS portfolio. The tiny USB3 cameras are Vision Standard compliant, equipped with a Micro-B connector and available with or without a C/CS or S-mount lens holder. The boards are so small that they can be plugged directly into the lens holders. In terms of imaging, however, they score big and also impress with their very low heat generation. This makes them particularly suitable for device construction and embedded vision applications.
uEye+ XCP Compact industrial cameras with C-mount
The XCP camera family of the uEye+ product range combines industrial quality with an economical system price. As the smallest IDS camera with housing and C-mount, the models fill a gap in the market. They measure only 29 x 29 x 17 mm and have a completely closed zinc die-cast housing. Their screw-type USB micro-B connection and compatibility with the Vision Standard (U3V / GenICam) simplify integration into image processing systems. Small, convenient, common lens size - these cameras open up a wide range of applications.
uEye+ XLE Models with a wide range of housing options
Do you need single-board cameras or do you prefer models with a coated plastic housing? Here you can freely choose which variant is the right one for your application. We offer both C-/CS-Mount and S-Mount as lens holders. The USB3 cameras have a Type-C connector. They are used, among other things, in small device construction, measurement technology, traffic and agriculture.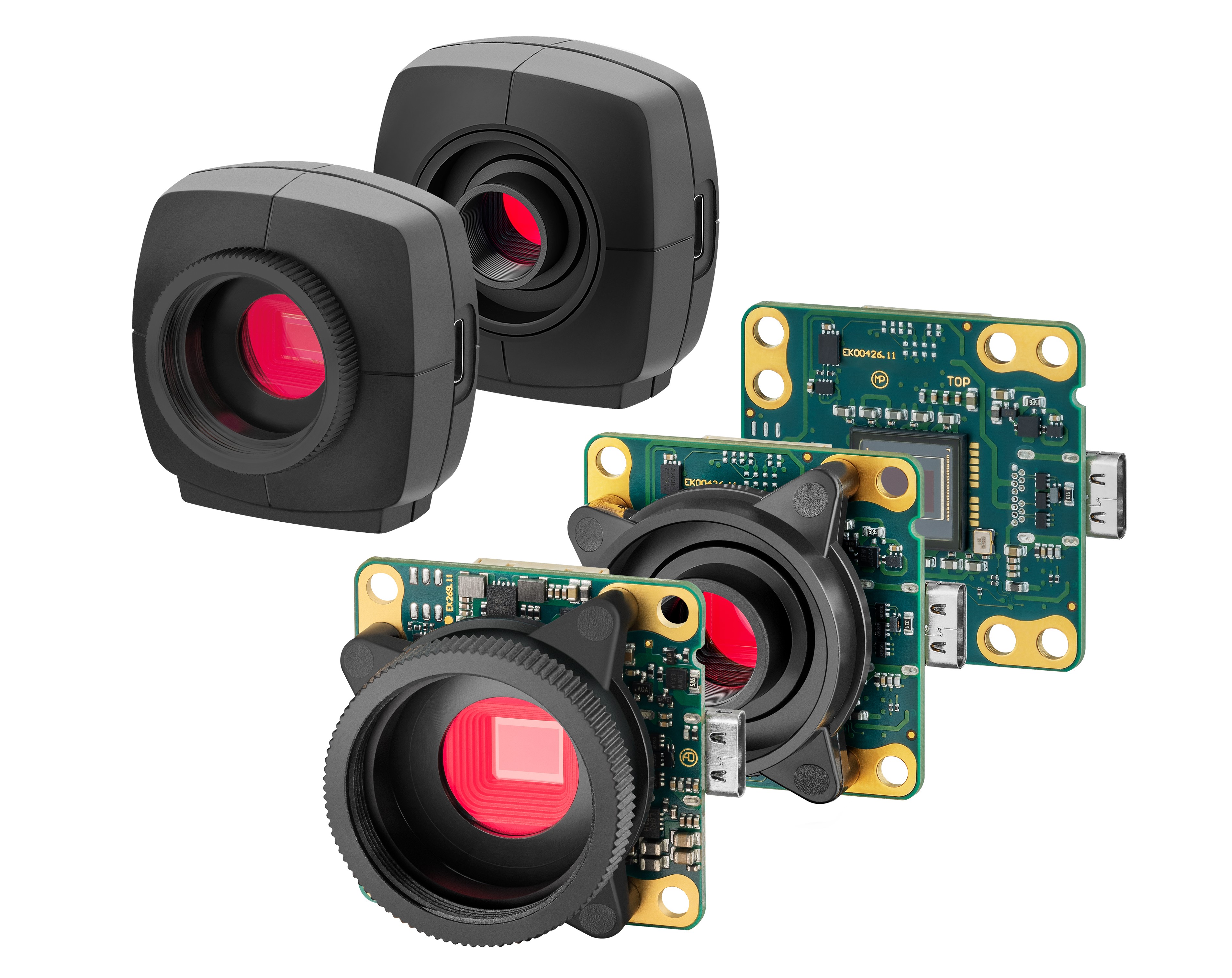 Embedded systems
Whether as eyes in autonomous vehicles or in robotics: The cameras provide valuable image information at an attractive price.
Production
Ideal for quality control and other inspection tasks to ensure that products meet standards.
Logistics
The cameras facilitate e.g. automated sorting and packaging processes by scanning barcodes or labels.
Medicine and laboratory
In addition, these cameras are used in small diagnostic devices and for analysis tasks in laboratories.
"Many applications benefit from image processing. By no means, however, does it always have to be the high-end solution. With these models, we offer our customers reliable and affordable options for versatile applications."