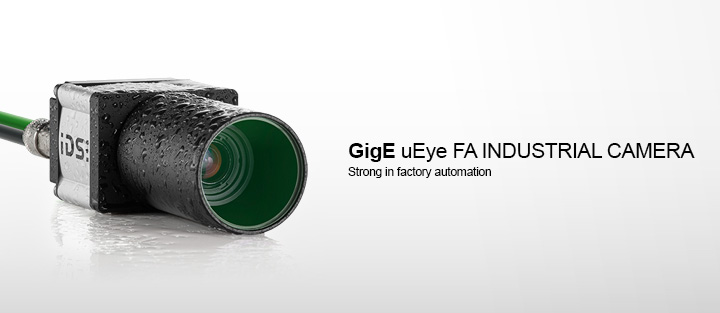 GigE uEye FA - Our most robust industrial camera for the factory automation
The GigE uEye FA industrial camera with Gigabit Ethernet interface is our power pack and all-round talent. The camera housing, lens barrels and connectors fulfill the prerequisites for protection code IP65/67 and protect your industrial camera from dirt, dust, water splashes or cleaning agents as well as accidental shifting of the optics. The screw-on connectors also meet the most demanding industry requirements – an 8-pin M12 connection with X coding for data transmission and Power-over-Ethernet (PoE) and an 8-pin Binder connector for GPIO, trigger and flash are available. An extensive range of accessories, including cables suitable for use as drag chains, and various screw-on options enhance versatility and facilitate integration. Ideal for multi-camera operation: An integrated image memory decouples image acquisition from image transfer. Internal camera functions such as pixel preprocessing, LUT or gamma minimize the processing power required.
Only with IDS: if you opt for cameras of the new GigE uEye FA series, you have the freedom to choose between the proven IDS Software Suite or support of the GigE Vision standard. Thanks to the unique IDS software, you also experience real USB plug & play, even for GigE cameras: The cameras are automatically detected in the system and are ready for use immediately.
Protection code IP65/67
Power over Ethernet (PoE)
8-pin M12 connection with X coding
8-pin Binder connector for GPIO, trigger and flash
128 MB of internal image memory
Pixel preprocessing
GigE Vision or IDS Software Suite
Factory automation
Machine Vision
Quality assurance